Artists prepare for VASE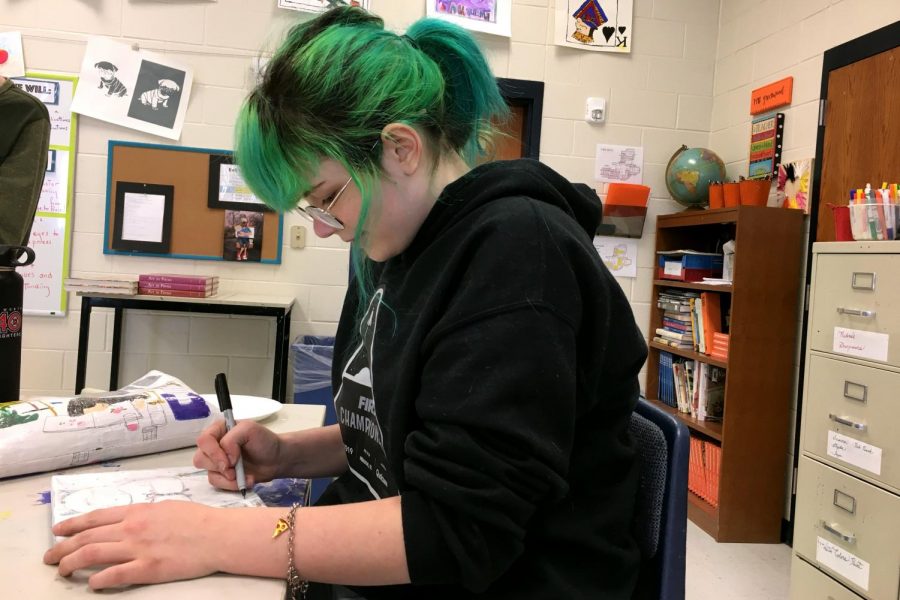 Throughout this semester, artists worked meticulously to finish their masterpieces and submit them to VASE, Visual Arts Scholastic Event. As the submission date of Jan. 7 grows nearer, many students' pieces are nearly finished or ready for competition.
"[VASE] is the UIL of art," art teacher Linda Greenwood said, "It is where students come together with their best work and leave with a take away from a judge to help the students grow."
The VASE event promotes creativity and individuality in the pieces of art that the artists have been working on.
"It's an open-ended project, so they get to choose based on their personal interests and their favorite abilities and then develop a piece from there," Greenwood said. "What [the VASE judges] are looking for is something that has never been seen before. Something so original from the artists' heart to where they are expressing something."
Artists are able to show a piece of themselves through art.
"With VASE, it's all about being able to express yourself through art without judgement," Art II sophomore student Ashley Canady said. "You get to choose what to do and what you should add to your piece to make it your own."
Multiple prompts have been suggested throughout the semester to give the artists inspiration.
"Just currently we threw out combining phobias. They can combine two phobias or three to create something from within and to express a meaningful message," Greenwood said. "We have some old books that the students can draw on, do art on, rip apart, or add together in some creative way that would promote the higher-level thinking that we are trying to achieve in Art 2.  And an homage to a classical artist, to research and see what pieces they have done and create a root to that piece through a creative original piece of art."
Art students have been thoroughly invested in their pieces with both the thought and effort they are putting into them.
"With VASE you have to put a piece of yourself into it," Canady said. "It has more emotion and depth than other projects."
The art teachers are very excited for the event this year based on their experiences from previous years.
"It's a very fun day when we get there. We all bring snacks, we look at everyone's art from around the region and we get ideas and we take photos," Greenwood said. "It is a really inspiring day."
VASE is a competitive event with levels of advancement based upon the critiques of the judges.
"It's scary," Greenwood said. "They have to speak in front of a judge and discuss elements of art and principles of design and why they did what they did. They will show their reference on the back of their art piece that shows that they are working from original photos or original ideas pieced together so it's original. It is a growing experience."
The artists who are included in the top ten percent from VASE advance to state. Then  the top ten percent from state then advance to regionals. And lastly, the top ten percent from regionals move on to Gold Seal.
"To get Gold Seal is just the very top honor in Texas for high school art," Greenwood said. "We make art to share art, so this is a great chance to put their very best foot forward."
The previous VASE events have proved successful for Aledo art students.
"Aledo has a winning art program," Greenwood said. "We compete with some of the biggest schools and last year we took away 7% of the wins and had several advancements on to state. The teachers are so happy because we see the commitment and work that these kids are putting in and it's thrilling to see them getting acknowledged for it."
Canady was among those successful in the event last year.
"Last year the prompt given to me was of extreme emotion. I decided to draw a girl, whose face was almost too perfect drawn using soft lines. Two children's hands that came from the bottom along with two hands that resembled tree roots that came from the top were pulling her face away like a mask, revealing a skull drawn using harsh lines," Canady said. "The obvious meaning behind it was the mask we put on for society. However the deeper, more personal meaning was how it felt to try and act brave when in reality my dad had been going through the process of a kidney transplant. It was very meaningful to get the highest rank for it."
Regardless of the results of the past, there is no way of knowing or predicting the outcomes this year.
"It's different year to year, and the judges are different year to year so you can't predict the judges background or what they are looking for," Greenwood said.
"I think VASE pieces show a depth in art and art students, a deeper level of thinking," Greenwood said. "Not only does it develop them in art and getting to know themselves as a person, it helps with the use of the entire brain, so with the left side and the right side together."
VASE submissions are due Jan. 7 and the competition will take place on Feb. 8 at Birdville High School.