Board proposes bond to improve district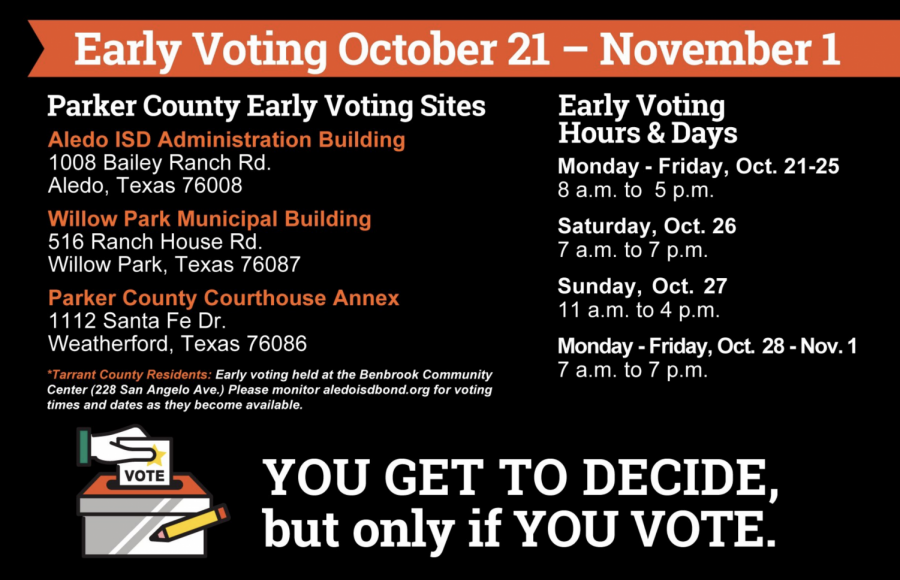 The Aledo 2019 Bond is a proposition for money to renovate and build inside of the school district of Aledo. A bond grant is typically used for renovations and expansions, technology, equipment and facilities.
On August 8, the Bearcat Growth Committee (BGC) presented the bond proposal to the Board of Trustees. The proposal is for $149,950,000. The funds are meant to be used for furniture replacements, renovations, school buses and to build more schools. 
Schools included for renovations and refurbishment in the bond package are the middle school, McAnally Intermediate and all elementary schools except for Walsh. The renovations would go towards making them more suitable for the kids going into these schools.
One major factor in this bond is that there will be no tax increases. Due to property value growth and the districts overall management of debt, voters will not have to worry about having their taxes raised. The property value growth equates to tax revenue to pay bond debt instead of increasing citizens taxes. 
Like the Bond from 2015, the main focus of this bond, with $98,359,000, out of the whole sum for the bond, is to build two new schools. Another $35,858,000 is expected to go toward building a new elementary school, while the remaining $62,501,000 would be for a new middle school. The building of these schools is to adapt to the ever-growing student enrollment in Aledo. The secondary function of this bond is to renovate and expand schools, using $44,766,000 in order to do this. This money will be split between the existing schools (the Aledo Middle School $33,446,000, McAnally Intermediate $9,611,000, and Vandagriff Elementary $1,709,000).
All the renovations being done inside the district are to help to not only better students, but to create more room and learning spaces for the people moving into Aledo. Calculations show that Aledo schools are expected to double in enrollment in the next ten years. These calculations show the reason for renovations and new buildings.
The remaining $1,800,000, will go to refurbishing the Coder, Stuard, and McCall Elementary Schools, so they can support collaborative learning, which is supposed to help kids learn to work together instead of separately. Additionally $500,000 will go to school buses, and $4,525,000 will go to land for future school sites. 
Early voting is held from Oct. 21-Nov.1 and Election day will be Nov. 5.
Early voting for Parker County is at the Aledo Administration Building (1008 Bailey Ranch Road), the Willow Park Municipal Building (516 Ranch House Road), Parker County Courthouse Annex (1112 Santa Fe Drive), Municipal Court Annex (200 N Main Street), Peaster ISD Rock Gym (8512 FM Road 920), Brock Fire Department (1107 FM Road 1189), and Azle Masonic Lodge (257 W Main Street).
The early voting location for Tarrant County is the Benbrook Community Center (228 San Angelo Avenue).
More information is available on the district's webpage: https://www.aledoisd.org/Page/5810
Story updated 10/23/19.