Jeen-yuhs: A Kanye Trilogy Review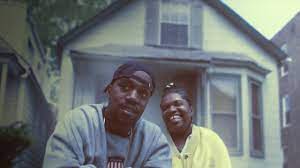 Kanye West, an American musician, has unquestionably worked his way from the bottom to be one of the most famous and wealthiest rappers alive. 
The Netflix documentary "jeen-yuhs: A Kanye Trilogy" came out on Jan. 23, which gave West the opportunity to show how many struggles and conflicts he worked through as an upcoming artist. He worked with Clarence Simmons, known as "Coodie," documenting every piece of footage when West started marking his way through the music industry. 
 "Act i: VISION," the first episode, explains how as a young adult he worked for many famous artists like JAY-Z and Grav as well as working for the Roc-A-Fella record label. West wanted more than to be known as a producer: he wanted to be famous and make his own music. 
He decided to move to New York in hopes of securing a record deal with Roc-A-Fella. He showed various departments in the office his song, "All Falls Down," that he had been working on in his free time. He sadly didn't get signed because they didn't take him seriously and only viewed him as a producer. 
West later got a phone call discussing getting a record deal he got on Aug. 18, 2002, with Roc-A-Fella record label. 
Donda West, Kanye's mother, was in parts of the documentary and visited his childhood home bringing back memories. Donda has always been there for Kanye and has worked to build that special foundation. 
"Act ii: PURPOSE," begins with footage from May. 17, 1990 with West rapping as a young child. Dame Dash, Co-founder of Roc-A-Fella, explains in a press conference that he is always promoting himself and does high-quality music. 
Even after getting signed with Roc-A-Fella, the label still saw West as a producer first. To do this, West wanted to be featured in JAY-Z's "The Blueprint" album. He not only was featured in JAY-Z's album, but he also got the attention of Dana Dane, an American rapper. 
While going to Los Angeles to film the music video, he crashed his car and broke his jaw in three places. Even with his wired-shut jaw he would still rap and travel even when the doctors advised him not to. He is one of the most persistent people given his minor setback. 
The second episode digs deep into the depth of showing how West wasn't treated with the respect that any beginning artist should have when being signed with Roc-A-Fella. The first week "The College Dropout" dropped it debuted at number two on the Billboard 200 chart. This album went to the Grammy's and got 10 nominations, including Best new artist, Song of the Year, Album of the year and more. With West winning a Grammy, his speech involves his famous quote, "Everybody wants to know what I would do if I didn't win," West said. "I guess we'll never know."
"Act iii: AWAKENING," shows Wests' downfall with his life. Nov. 10, 2007, Donda West died of a heart attack at age 58. West hasn't been the same since she passed. They had an inseparable relationship.  He didn't make time to grieve from her passing, however: he kept touring and pushing as hard as he had before. West had been acting differently and asked Coodie to stop filming for the first time since Codie started filming Wests' whole journey.
Years went by, and West went on with his life with no more documentation by Coodie and slowly sees his life go on without his mother. It's very transparent on how much of an impact had happened with Donda's passing. 
Album after album, West went on tours and performed in the crowd as he'd always dreamed to. In 2016 West launched his fashion line, Yeezy, and had always had a dream to be the best-dressed artist while "Life of Pablo," his newest album, was the music. It is safe to say West changed, especially when he became involved in politics. West was admitted to the hospital because of a psychiatric evaluation. It was difficult to see him struggle mentally and get into a deep place of darkness. 
With all of the trials and tribulations West has gone through over the years, he will still be one of the most dedicated musicians of all time. His newest album, "DONDA," is dedicated to his mother and it is evident how much time and commitment he puts into his albums. He's not only doing it to make himself proud but he's doing it for his fans and mother.