Senior One of Ten Accepted to ACHIEVE Program
The clock seemed like it would never reach 6:30 p.m. Everyone knew senior Travis Decker had made his choice, but it was a secret.
That is, until the clock struck 6:30 p.m.
His family live-streamed the reveal on Facebook for those who weren't in his front yard to see. It was 6:28 p.m. The crowds grew.
Those watching the stream couldn't take their eyes off of their screen. The world froze for a split second. 6:29 p.m.
His friends and loved ones knew this was the biggest decision of his life. He moved near his father, who Decker said is his biggest role model because "He's a man." Decker's words. 
Decker's dad handed him the popper and wrapped his arms around him to keep him steady. Only seconds left.
After a moment, the popper broke the silence and everyone erupted with cheers. When the red confetti burst into the air and covered the yard, everyone knew Decker was going to A&M.
Decker was accepted into both A&M's Aggie ACHIEVE program and the UNT ELEVAR program.
He said that he picked A&M over UNT because it's an "amazing, historic college." It was his "number one" choice.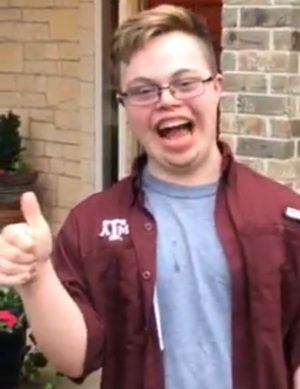 Only ten students are accepted into Aggie ACHIEVE each year. One of the ten, Decker will start in the fall.
"There were a lot of applications and interviews and he had to go down to College Station for two days," functional academics teacher Londen Howorth said. "He'll go back really soon after school gets out for orientation and to get used to campus life."
The competition to get into only one of the programs was high. To say the least, getting into both wasn't common.
"It's a very extensive program and to get into both is a really big deal," Howorth said. "He's been working very hard."
Decker is excited for the new aspects of life in college, but he is taking his passions and hobbies with him. He said that his best talent is swimming. That makes sense since he was a four-year varsity swimmer on the AHS swim team. 
"I've been swimming for eight years," Decker said. "I love to do the butterfly, backstroke and freestyle. I train tons." Plus, Decker said he is going to continue to swim in college just for fun.
Lucky for him, A&M has a huge recreation center including a pool, rock climbing wall and game room. Decker said he is going to watch the football and baseball games at the stadium. He claimed to love both sports equally. He will always prefer to cheer on the A&M swim team, though.
Besides the fun, Decker has always had big dreams. He said that he wants to be a doctor. And anyone who knows Decker will tell you that he isn't afraid to work hard to become one.
Even though A&M doesn't have a medical school, Decker said he is going to take medical classes there.
As for settling in, Decker is going to live with his cousins at the White Creek Apartments on the west side of campus. He said that he isn't scared at all, but definitely "psyched." If you know Decker, this doesn't come as a surprise. He's psyched about life.
Decker has no regrets. UNT is the last thing he's thinking about. It's obvious that he has nothing but excitement for the fall when he looks straight at the camera in his confetti-covered front yard, gives two thumbs up to the crowd and exclaims, "Gig 'em Aggies!"