HOSA Hosts Annual Blood Drive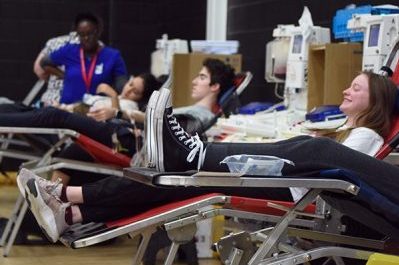 On Feb. 28, HOSA held their annual blood drive that gave students the opportunity to give blood. It lasted from about 9 a.m. – 3 p.m. 
HOSA students help Carter Blood Care set up and shuffle the students in and out and monitor them in recovery after Carter has collected their blood. 
"This year we had 55 units of blood collected which equals about 165 lives saved," health science teacher Courtney Goforth said. 
Students donated for a variety of reasons. 
"I donated to see what I could do for the community and to help save people's lives in a small way," junior Christopher Lee said. 
HOSA is also collecting donations for Ukraine. Items needed include non-perishable food, children's clothes, thermal wear, blankets, bedding, sleeping bags, and first aid kits. Donations will be collected outside the counseling office, as well as in boxes around the school.