Band and Choir Students Compete at Solo and Ensemble Competition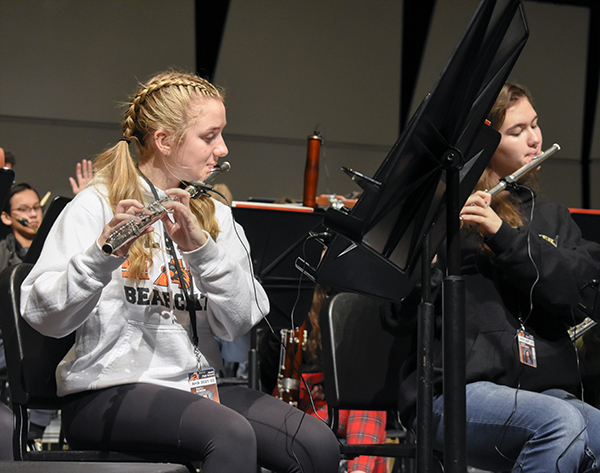 On Saturday, Feb. 19, Aledo hosted the annual Solo and Ensemble competition, where choir and band students compete for the opportunity to go to state. While working this all day competition, many choir and band students from Aledo also participated in this competition. 
Each student spent time preparing a solo and/or ensemble, which they performed in front of a judge. The song they performed is ranked by level of difficulty, class one being the hardest. After each student performed, the judge gave them a score 1-5, 1 being the best score and 5 being the worst. Only students who performed a class one solo/ensemble from memory and earned the score of 1 advanced to state, where they will repeat this process with all the other students in the state of Texas that advanced. This will be the first in-person state competition since 2019, since the state competition was canceled in 2020 and was virtual in 2021. 
The choir had 22 students advance to state, and the band had 30 solos and 5 ensembles advance to state. 
"It was a very long stressful day, but in the end getting a one and advancing to state made it worth it. I'm so excited about getting to go to state in May after not being able to go for two years," choir senior Katelyn Attaway said. 
The students who advanced will travel to Austin for the state competition on May 28-30.