Ag Students Sean McCarthy and Corbin Haber Break Stock Show Record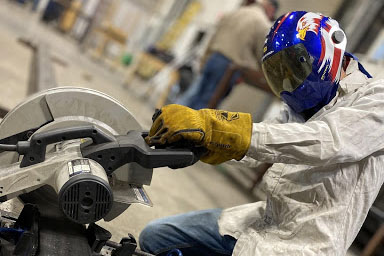 Sparks fly as Corbin and Sean weld pieces of metal together. In total the project would take 220 hours. Long days and even longer nights, but when they finished they knew it was special. 
Ag students, senior Sean McCarthy, and junior Corbin Haber set a record at the San Antonio Stock Show and Rodeo for selling their trailer, Miss Betty for $28,500.
"Corbin calls me and was like, 'We hit the record,'" Aledo Ag mechanics teacher, Kody Knight, said. "It's no different than the football team here that wins state every other year, or every year, and so people want to come to win." 
McCarthy and Haber earned the record sum with their 16-foot trailer at San Antonio's Stock Show and Rodeo, taking first place and breaking the record in San Antonio.
"We were only hoping to break even at $6,000, but once we broke $2,500 it never slowed down and when I heard $15,000," Corbin Haber said, "all I could hear was clapping and I couldn't even see straight because making $15,000 was the dream goal."
But the bids kept rising. 
"It just kept going and it was unbelievable and it just got to the point where I couldn't make out what the auctioneer was saying, but I knew all the yelling meant it was good." Sean McCarthy said.
The previous highest bid was $16,000, which was set last year in San Antonio. The trailer was bought by the CEO of the San Antonio Stock Show, Cody Davenport.
"Creating this trailer was definitely the coolest build I've ever been a part of," Corbin Haber said, "but breaking the auction record was the dream that made all the hours worth it."