Final exams finish off the year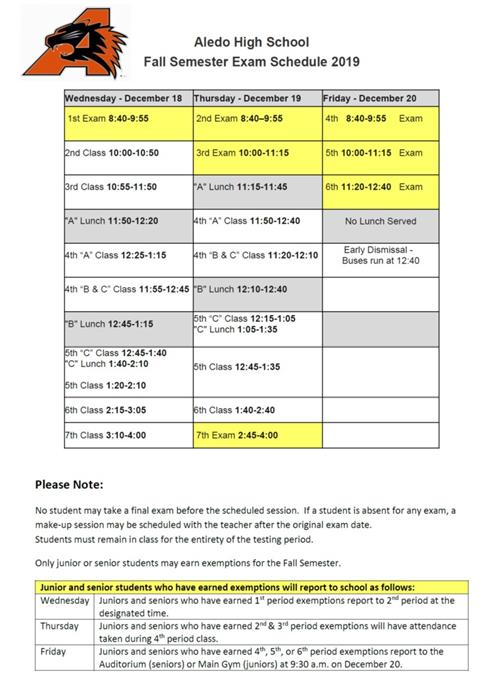 As the end of the year approaches, so do final exams. The end of next week will bring tests in all seven periods, culminating in an early release on Friday.
Juniors and seniors have the opportunity to earn exemptions for exams based on their attendance and grades in the individual classes. Sophomores will have the opportunity to be exempt in the spring semester, but only upperclassmen may in the fall.
If a student has between a 75 and a 79 in a class, they can only have one excused absence in it in order to be exempt. If their grade is between an 80 and an 84, they are allowed two excused absences. If they have above an 85, students may have up to three excused absences and maintain their exemption status.
College visits, of which juniors and seniors each have two per year, do not count towards these absence limits.
The codes in the gradebook that count against exemptions are: "A," which is an excused absence and is covered above; "N," which is a medically excused absence for an entire day and counts the same as "A"; "U," which is an unexcused absence and results in loss of exemptions for the period in which it appears; "W," which indicates a permanent unexcused absence and does the same and "Y," which is a personal day (verified by a parent) and behaves as an unexcused absence. No other codes in the gradebook affect exemption status.
However, if a student has any unexcused absences in a class, they do not qualify for exemptions in that class. They also must have no disciplinary issues on their record, which includes actions resulting in ISS, OSS and DAEP.
To maintain their exemptions, students must continue attending class up to the test date. However, students are not required to attend an exam they are exempt from, so may have early release or late arrival some days of exam week.
On Wednesday of finals week, only one test will occur: first period. If juniors and seniors are exempt from this test, they may arrive by 10 a.m. so they are present in second period. On Thursday, the second, third and seventh period exams will take place, so students exempt from them may arrive as late as 11:50 a.m. (for students with "A" Lunch) or 11:20 a.m. (for students with "B" or "C" Lunch). They may leave as early as 2:40 p.m. if exempt from their seventh period final.
Friday is an early release day for all students, so the last three finals (fourth, fifth and sixth period) will take the entire school day. In order to remain exempt from these, students who do not have to take them must check in at 9:30 a.m. Seniors should check in in the auditorium, while juniors should do so in the main gym.