A Cross Country Champion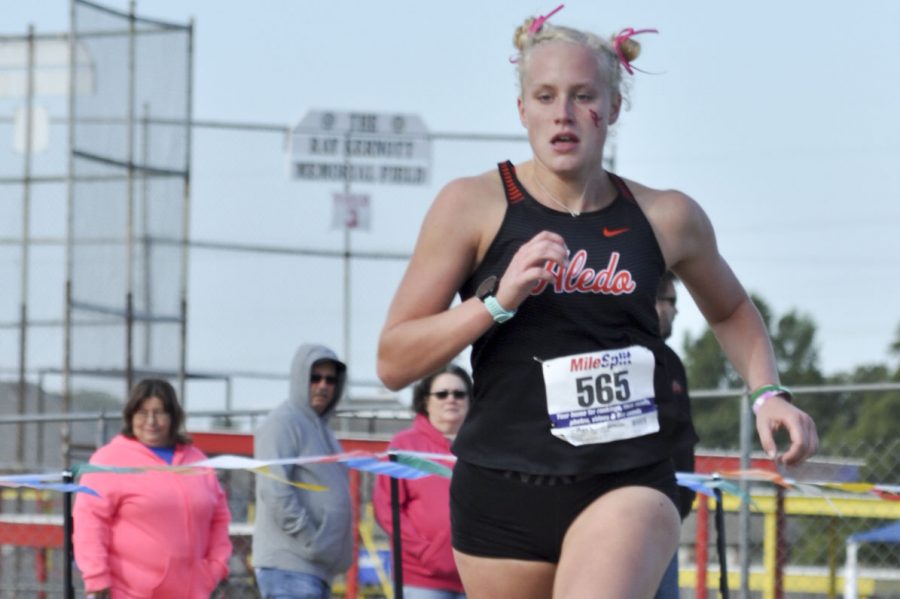 Waiting on the start line, Gracie Morris prepared herself for the three-mile race ahead of her. 
But her journey to Lubbock began years ago, in seventh grade, when Gracie started running cross country.
"My first experience with cross country was watching my older brother run it in middle school," Morris said. "After going to one of his meets I knew that it was something that I wanted to do."
It was hot the day of Morris's first meet. She nervously awaited at the start line to begin. She would soon learn how cross country contrasted from track.
"I was used to running on the track," Morris said. "It was a big difference for me because I had to learn how to pace myself and realize that times from course to course aren't comparable."
Years later, on Oct. 28, Gracie was about to run one of her last races with the Aledo team.
Like her first race, and all the others that followed, Morris again waited on the start line.  Silently preparing herself for the race ahead of her.
Unlike the other races, Gracie was just getting over a sickness.
"I actually wasn't feeling great at the beginning of the race or any point of the race," Morris said. "I ended up getting sick the day before regionals."
Despite this, Gracie vigorously pushed herself through the race.  
She was not about to allow herself to sit out of regionals on her senior year.
After three miles of pacing herself through, running against the others and her former times, Gracie came within eyesight of the finish line.
She sprinted, propelling herself until she had crossed the line she had been pushing herself toward the whole time.
She was rewarded with first place.
"When I crossed the finish line, I felt relief because I had won and secured my spot," Morris said.
She had secured her spot to run in the state race, where on Nov. 9 she finished in second place.
This result did not come without dedication.
"I've been training all summer for cross country," Morris said. "It was a lot more difficult this year than it has been in the past because I'd been hurt for over a year and I was having to relearn how to push past the mental block that comes with running."
As this is her senior year, Gracie's career in Aledo cross country has nearly marked its end. 
"I'm definitely going to miss all the memories from freshman year with Coach Reid, and all the relationships that I've made with the people on the cross country team and all of Pinkerton's jokes," Morris said.
Gracie will continue her cross country career in college.
"I plan to run cross country at the University of Texas. After college I plan to just be on the track. I don't plan on running cross country after college because I know that I'm a lot stronger in the middle distance events," Morris said. "I use cross country as a way to build an endurance base for track. Cross country has taught me to be a lot stronger mentally and to stay focused even when I start getting tired."