Bucking Away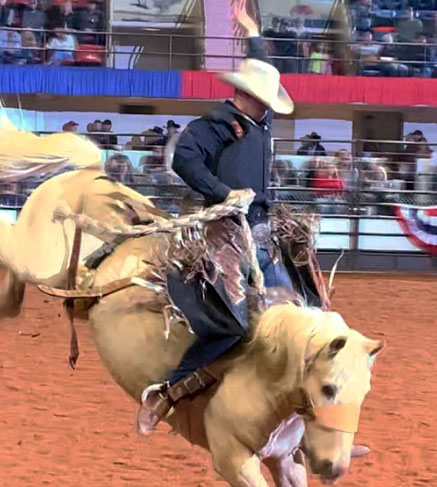 Greyson King won first place in the bucking event at Fort Worth Stock Show and Rodeo (FWSSR) Feb. 1.
"It was an amazing feeling seeing all the people cheer me on," Greyson said. "When I waved my hat, hearing the cheers get louder made me feel like I was floating."
The day began and Greyson waited to get called for his time to go out. 
"Hundreds of eyes were on me and my horse. I was praying to God not to get hurt," Greyson said. "My favorite thing about rodeo is the feeling I get leading up to the rodeo and when I'm about to ride." 
Greyson has worked on bucking since he was born, and he said he loves it. It has taken him years to get to the point where he can win a major.
"I had to constantly work at it," Greyson said. "I would drive to Granbury to get on a bucking machine as much as possible, or I went to the Cowboy Church to ride steers or to Weatherford whenever I get the chance."  
Greyson said learning to ride saddle broncs was a challenge, too.
"It took some time," Greyson said. "Saddle bronc has a lot of technique to it. You can't grab your saddle and pray, you have to move with the animal." 
Meeting the kids on the bucking team also pushed Greyson to improve.
"My goal was to make eight seconds in a rodeo and make my family and mentors proud," Greyson said.
When he finishes riding, Greyson plans to continue bucking for the rest of high school. 
"I've fallen in love with rodeo and how it makes me feel," Greyson said. "I'm gonna push myself until the very end."