Spotlight on Student Band: Temporary Insanity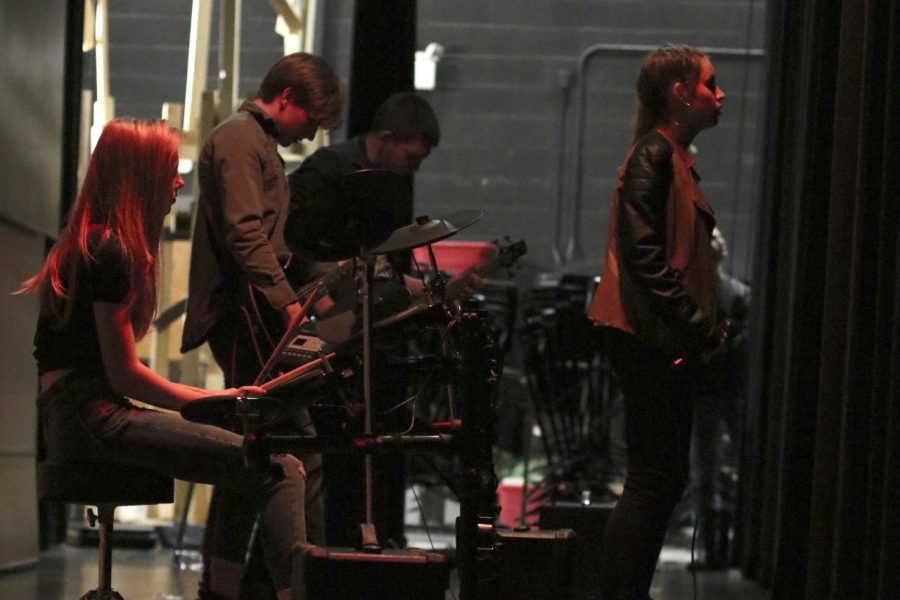 The crowd talks amongst themselves, waiting for the next performance to take the stage in the talent show. Suddenly, the curtain opens, revealing a band.
That band, Temporary Insanity, only began this school year. It is composed of junior Bailey Williams as guitarist, sophomore Livia Garton as singer, junior Claire Kennedy as drummer, senior Sean Mazza as bassist and senior Kyndel Baker as manager of social media.
"It was kind of weird how it all started," Bailey said of the assembly of the band. "I couldn't really find anyone who actually did music until I came here this year."
Bailey, upon transforming from TCA and coming to Aledo, found the members of the band. Livia became a part of the band at a Halloween party because of a conversation about her voice she had with Bailey's dad. Claire became the drummer after talking about a drum set with a member of her lunch table. And Kyndel started running the Instagram (@temporaryinsanityy) because of her friendship between Claire and Sean who had mentioned Temporary Insanity.
However, Temporary Insanity has not always consisted of these same people.
"It's definitely evolved a lot from people leaving to people joining," Kyndel said.  "Now we have found a good group of people."
Their first show was at East Parker Coffee Company on Nov. 14 and their second was at the talent show.
"I think about the fact that we were the first band at the talent show and am proud of us for breaking new ground," Livia said. "I feel like people could be inspired by that."
Although they have played a couple of shows, the members of Temporary Insanity are still settling on a style of music.
"We are still trying to find our sound," Claire said. "Fever Dream is kind of like a mid-hard song and then we made a really metal one, then grinded it out and after break we came back and were like, 'ummm, maybe we're not going to do that.' So Bailey started coming up with more chill type beats and we figure people our age will like that."
Right now, the future of the band is still unknown.
"I think we are all hoping that we will stay together and produce more music and grow," Kyndel said.
Though the band has not been around for a long time, it has already started impacting those who witness it.
"I've had a couple people tell me that they want to start making music now because they saw us doing it," Livia said. "And that makes me so happy."
Temporary Insanity is currently working on expanding their set list and looks forward to booking more shows.
"I think it's cool how even if the band doesn't work out and we all go down our separate paths, we have already inspired people to start doing what they want to do and pursuing new things," Kyndel said.