Cardiologists-in-Training
Health Science students learn to administer EKG's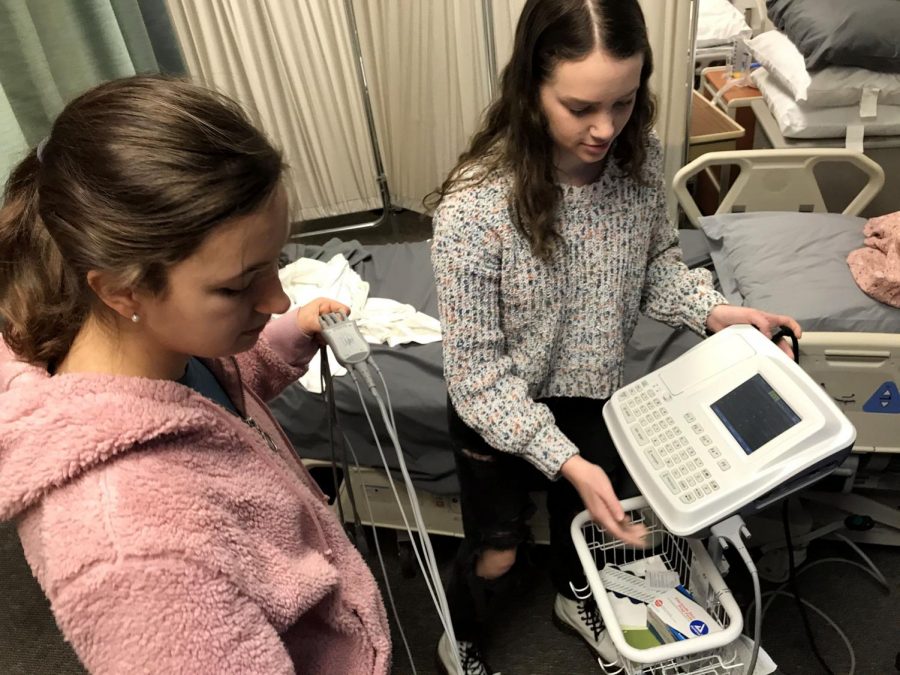 Emma Tilley and Tristan Tillman both long to be doctors. They are active members of HOSA, have taken years of health science classes, and are going to their respective colleges with a pre-med focus. This semester, they get to expand on their interest in the medical field by earning their EKG certification.
An EKG measures the electrical signals of a person's heart.
"I'm taking EKG to continue along the health sciences track for HOSA, but also because the stuff we learn is fun,"  Emma said. "I think the heart is interesting."
By being certified to perform EKG's, students can become qualified for jobs in hospitals and physician's offices, even without a degree.
"It might help me get a job in college that pays pretty well," Emma said.
However, to earn their certification, Emma and Tristan need to pass an exam. 
"I'm nervous about the test," Tristan said. "It seems like it should be easy, but it asks questions that are kind of irrelevant."
Before even doing that, they need experience. Each student must perform 10 EKG's before they can take the test. They agree that this experience is beneficial because they would get weird results on the first few.
"One time I forgot to breathe and it told me I was dying," Emma said.
Though the class is difficult, it is made easier by their teacher, Ms. Meador.
"Ms. Meador is very helpful," Emma said. "She does a lot of extra homework to help us know what's going on."
"She tells lots of good stories too," Tristan added.
Both Emma and Tristan have parents in the medical field. This influenced their decision to pursure health sciences, and makes their classes a little easier.
"My parents can understand when I talk to them about my school work," Tristan explained.
They will take their test at the end of the semester and continue to practice using the EKG machine until then.