Achoo, It's The Flu!
Flu shots to be provided to students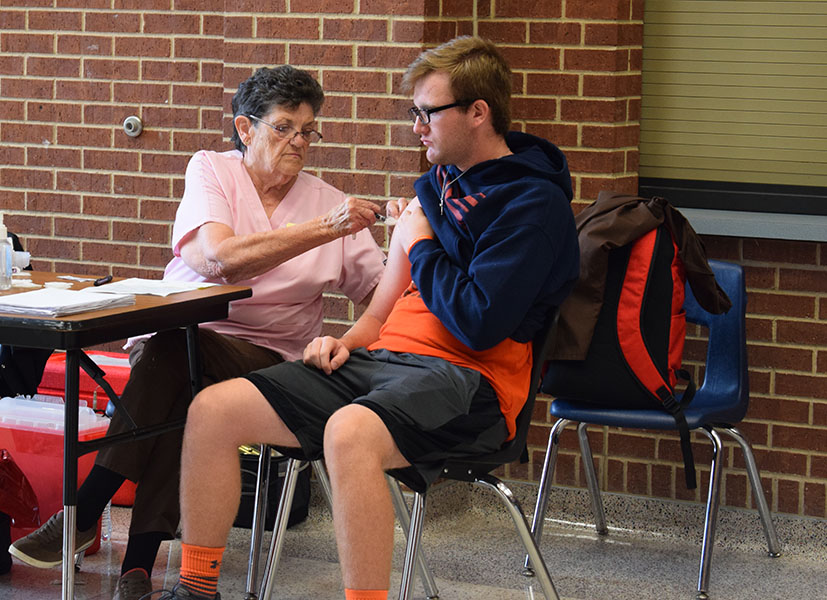 As flu season gets underway, the district will be hosting a flu shot clinic to ensure that every student has an opportunity to be vaccinated. This clinic will be next week at each of the schools. It is available for anyone over six months of age.
The Parker County Hospital District will begin administering the shots on Oct. 7 at 7 a.m. at Vandagriff Elementary and will travel through the district in the following order: Stuard on Oct. 8 at 7 a.m, Daniel Ninth Grade on Oct. 8 at 8 a.m, Coder on Oct. 9 at 7 a.m, the High School and the Learning Center on Oct. 9 at 7 a.m, McCall on Oct. 10 at 7 a.m, Walsh on Oct. 10 at 7 a.m, the Middle School on Oct. 11 at 8 a.m and McAnally on Oct. 11 at 8 a.m.
The shot that will be administered has antibodies to protect against the flu. Strands of the flu virus are constantly changing, which means that a new shot must be administered yearly. This shot typically goes in the arm of the person it is being administered to.
This year, the school district has confirmed that they will not be administering the flu mist to students and children. The mist, a less painful alternative to the shot, was sprayed up the patient's nose. This year however, the only available means of receiving the vaccination, at the school, will be the long-time standing shot.
The forms for the flu shot can be found on the district website and they will be necessary to have filled out and brought to school on the day of the clinic. If you are 18 years old or younger and insured, it will be billed to insurance. If you are 18 and younger, uninsured there is no cost.If you are above 18 years old and insured, or wish to pay without filing for insurance, the cost will be $20. 
–Flu Shot Consent Form – English
–Flu Shot Consent Form – Spanish