Ready for anything the band throws at him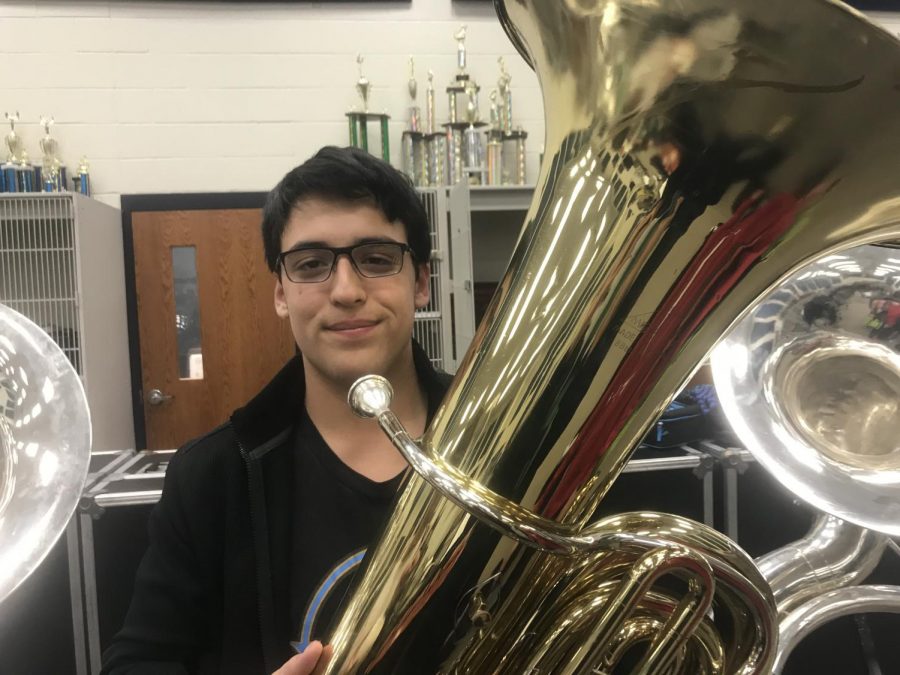 The clock for the second quarter reaches zero. The announcer comes over the p.a. system. The band is getting ready for their first big hit; this is all just a normal Friday for sophomore Marcus Bean.
Marcus plays the tuba in the Wind Ensemble (first band). He's been playing tuba since sixth grade grade, and has since then made a name for himself in the band. Marcus made the top band his freshman year, which is something not many freshmen can do. He was able to march and play the sousaphone during his freshman year and got to march in the state marching contest when the band made 8th out of all the 5A bands in Texas.
"When I heard the announcer call out our school's name saying that we made it to the state contest I felt really excited and accomplished," Marcus said.
Last year, during the Region 30 contest, Marcus made it through phase one and two to get to the Region Band. During solo season last year, Marcus chose to play an unaccompanied super solo. Super solos are the most difficult out of all the solos, but since they are so difficult you don't need to memorize them like you would for a regular division one solo.
"I played a super solo so that I wouldn't have to memorize a solo and because I wanted a good challenge," Marcus said.
Because Marcus earned a two on his super solo and made the Region Band last year, he was able to get a letterman jacket his freshman year.
"I felt very accomplished when I heard that I was able to get my letter jacket," Marcus said.
Marcus is also in the Jazz one Band where he plays the bass guitar.
"I like jazz band so much just because it's different than concert band and gives variety," Marcus said.
In his sophomore year Marcus is always in competition for first chair in top band, and got it during the middle of the first six weeks of this year. Now after a year of success in band, Marcus is going for more. This year, Marcus is striving to get a one on his solo, make the region band for the second time and excel at the bass guitar in jazz band.
After a year in the band Marcus has done lots of things that many people can't do in their freshman year, and he hopes to keep playing the tuba so that one day he can be the best.