How COVID-19 Is Affecting Agriculture Classes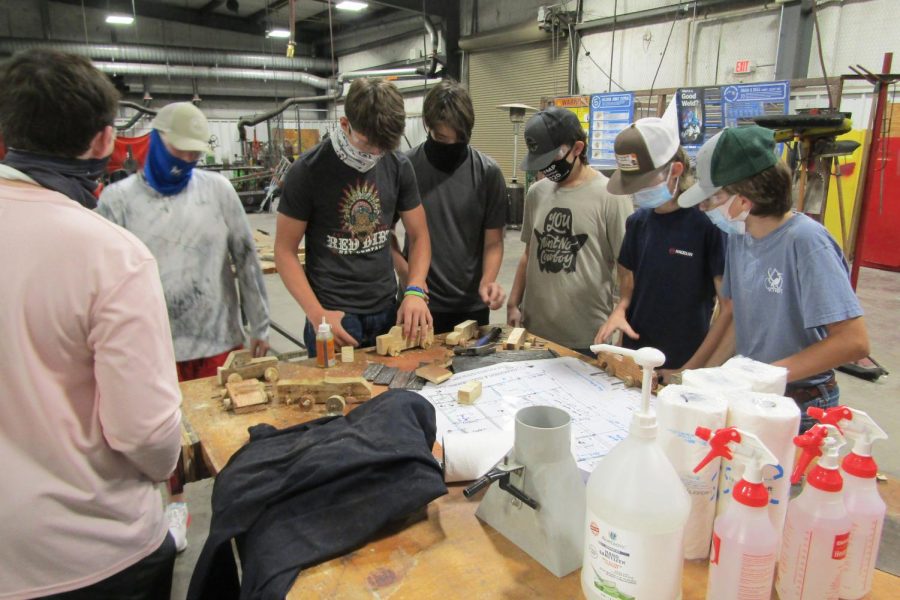 COVID-19 has affected many aspects of this school year, including agriculture classes. Since a number of agriculture classes can only be offered in person, several online students are coming to school for those classes. 
Mr. Knight's AG Mechanics and Shop classes have been struggling to meet the school's safety requirements. Some requirements include having to wear masks while working, sanitizing all tools after use and not being able to share supplies.
"Safety has always been a big thing in our classes, but this has just added more things to it," Knight said. "We're not supposed to share anything out here, but I mean, I don't even have a tape measure for every student, so we go through a lot of the cleaning solution." 
Most classes don't have problems adhering to wearing masks or the safety procedures set in place, but that rule is hard for Knight's classes to follow. 
"The issue we run into with our masks is that when we wear our safety glasses the masks make the glasses fog up and you can't see exactly what you're doing," Knight said.
The AG Mechanic/Shop classes also participate in competitions. In these competitions, the students build projects, such as tables or chairs. Their biggest competition is the Fort Worth Stockshow and Rodeo.
In addition, students have to build projects for competitions that would ordinarily be paid for by the district, but Mr. Knight says his aren't.
"It comes from a student having a sponsor or someone in that student's life wanting them to make them something, for example a table or a chair," Knight said. "So they build it for them and that gives them something to show. Then they bring it back and give it to the sponsor or they get paid for whatever they made." 
Last spring, their competition got canceled halfway through the building process. This year, the teams will still prepare for the competition.
Ms. Holland's Floral Design classes are also facing challenges. Her classes have to social distance when in class, they cannot share supplies and they have to end class early to spray down desks and supplies that were shared. Under normal circumstances, they are able to participate in group projects, share supplies and use all of their allotted class time. 
"It has definitely been a struggle to figure out how to get our hands-on projects in class and really try to get those to where they feel kind of normal, but we also have to think about all the safety measures and protocols on trying to make sure that we're trying to stay six feet apart," Holland said. "Sanitizing all the equipment and tools, kids have to wear gloves while they're doing any types of projects where we're sharing materials. So I think that's been a really big challenge."
Because Ms. Holland's classes are so hands on, they are not offered online. Online students then have to come to school for her class. During hybrid, Holland turned the focus to a different side of her class.
"We really tried to focus more on the FFA side of things when it was hybrid, to where we weren't trying to teach those hands-on lessons while the students were at home." Holland said.
At the end of the year, Floral Design students are able to become certified florists through the Texas State Floral Association. Last year, both level one and level two tests were cancelled, and students missed out on their certification.
"It affected over 20 kids," Holland said. "So we're trying to figure out if we're going to be able to test this year, and what that looks like."
As the uncertainty of COVID-19 continues, AG classes will have to keep learning to adapt to a new normal and the teachers will have to continue to modify their teaching style to fit the guidelines.