Animal Science classes start a dog-grooming service
Bearcat Buddies benefits man's best friend and their humans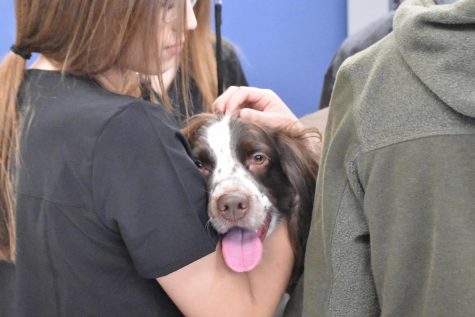 A dog-grooming service by the animal science classes became available this month. Beginning on Oct. 18, teachers can sign up to have their pets groomed by the students of the agriculture department.
 Kristi Kelley, Agricultural Science teacher is starting this new service.
"This summer I went to a teacher workshop for incorporating more activities in animal science classes," Kelley said. "And I heard of another school that does grooming and doggy daycare services and I thought that the grooming side would be a good aspect for Aledo."
The students and staff are looking forward to this experience.
"I feel like the Ag department and students and teachers as a whole will benefit from this opportunity," sophomore Gabby Shultz said. "Not only are we learning how to properly care for and clean dogs, we are learning how to give back to our community service-wise." 
Students also will learn lessons that they can implement throughout their life and in their future.
"I'm hoping that they [the students] will learn animal handling skills," Kelley said. "Our goal for our program is for upcoming classes of students, starting with my sophomore classes, to earn their certified vet assistant certification so they can go get a job in a vet clinic when they are in college. And I hope that they learn customer service. Part of my mentality for this project is that the students run the service. They are going to be the ones checking dogs in and setting up paperwork, letting owners know when their dog is done grooming so that they know that they are scheduled to pick them up at the time that they said that they would."
Services that Bearcat Buddies offers include brushing teeth, cleaning ears, trimming nails, gland expression, wash and blow dry and brushing.
"I have three classes of students who will be working on the dogs throughout the day," Kelley said. "My vet class is first period and they are going to be doing nails, teeth, ears and gland expression. My small animal classes are fourth and fifth period and they are going to wash, brush, and blow dry so that they all get a different experience."
The agricultural science classes have taken actions to prepare for these events.
"We have brought their kennels [and] their liability forms to make sure everything is safe," Shultz said. "My Ag teacher Ms. Kelley has properly prepared our equipment for it. We have a dog-washing center which is quite high quality. We have a grooming table which is also quite high quality. We have leashes that come with little bags when we take them out when they need to go. And we also have a shelf filled with the equipment and materials that we need to wash dogs, clean their ears, clip their nails, and properly care for them. 
The participants in this event are also preparing for emergencies and drills.
"We also have drills that we are going to start doing soon," Shultz said. "So whenever there is a fire drill, the dogs will be in their kennels, so we will prepare for how we will get them out and properly take care of them and put them outside with us."
Grooming dates for the fall include Oct. 18, Nov. 8 and Dec. 13.
"Right now, we will groom in the fall once a month,"  Kelley said. "In the spring our goal is to groom twice a month."
The service now applies to teachers only.
"Right now it is aimed at teacher dogs, but maybe we can expand it beyond that," Kelley said.
The drop off time window is 7:45-8:10 a.m. and the pick up time window is 4:00-4:15 p.m.
"These dogs are in the best of hands and the best of care," Shultz said. "I can promise you that."