Don't say thank you, next to "thank u, next"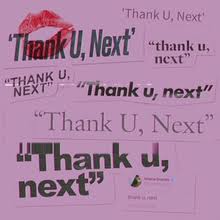 Ariana Grande experienced an incredible year for her career, largely driven by tragic experiences serving as the inspiration for her songwriting. Coming on the heels of her Grammy-winning album, "Sweetener," "thank u, next" had a lot to live up to.
"thank u, next" is quieter and smoother than her previous albums, and though it showcases Grande's incredible voice, it does so in more subtle ways. The whistle tones at the end of "imagine" are a far cry from the powerful vocals in "God is a woman," and they show a different side of her musical ability that is fresh and unexpected.
Though, overall, the album is phenomenal, there are a few hiccups, and many of the songs sound similar, with a few notable exceptions. "thank u, next," though it is the titular song, does not feel as though it belongs. It lacks the hip-hop inspirations and similar choruses of the others. Although it is fun to sing, it should have been released as a single only, for it represents emotions that the rest of the songs don't acknowledge in an extremely dissimilar manner.
Additionally, the song "imagine" falls short. It is not a bad song, but by naming it "imagine," Grande evokes memories of John Lennon's well-known and far superior "Imagine." This was likely unintentional, but it forces a comparison that the album's producers should have known to avoid. The songs are nothing alike, and when listened to separately, both are good, but Lennon was an iconic artist, and "Imagine" is one of his most famous songs, so it is impossible to listen to Grande's without yearning for better.
Perhaps the most criticized song on the album is "bloodline." This song can only be described as weak. The metaphors are underdeveloped, and though the bridge builds nicely, the chorus falls flat. The entire song revolves around how Grande is only there to have fun, she does not "want you in my bloodline." This metaphor is simply unsubstantial, and when thought about for more than a second makes no sense. It is not even upbeat enough to be defended as a meaningless dance song, it just feels like filler that has similar messages to the other songs but does nothing new or noteworthy.
Though it has some weak spots, many aspects of "thank u, next" are impressive, and even more so when considering that it was written, recorded and produced in only a few weeks. The album has its share of ear-worms, dance 'bops' and even a touching emotional ballad.
The songs "NASA," "fake smile," "make up" and "in my head" are all likely to stick in your head for days. They are catchy, fun and lively. They are also relatable and stick to the common theme of the album. Though they may not get as much attention as "7 rings," "thank u, next" or "ghostin," they are the lifeblood of the album. They are fun songs that should not be ignored, and they are what should be listened to if one wants to get a feel for the album as a whole.
The songs on the album that get the most attention are "thank u, next," "7 rings" and "break up with your girlfriend, i'm bored." Other than with "thank u, next," this attention is deserved, and as "thank u, next" is the titular song, its precedence is understandable. All three of these songs are easy to dance to and sing along with, and they are the shining stars of Grande's album.
The most touching and emotional song is hands-down "ghostin." This song is about how Grande still had feelings for her late ex-boyfriend Malcolm McCormick (Mac Miller), and how her mourning for him got in the way of her relationship with her ex-fiance Pete Davidson. This contains quiet vocals that communicate the strength of her feelings while the touching lyrics share Grande's melancholy with her listeners.
Though it has its lows, "thank u, next" is phenomenal, especially considering the miniscule length of time in which it was created. With Grande's newest album, she achieved the record previously held only by The Beatles: having three songs in the top three Hot 100 spots. This achievement proves both the quality of Grande's music and the dedication of her fans, while earning her a place in music history. This album leaves fans desiring nothing and fearing only that she will be unable to top this album, which arguably beats all her prior feats.